Louis Pasteur, ForMemRS
The Father of Germ Theory
From chemistry to biology, Louis Pasteur and his laboratory experiments revolutionized our understanding of infectious diseases.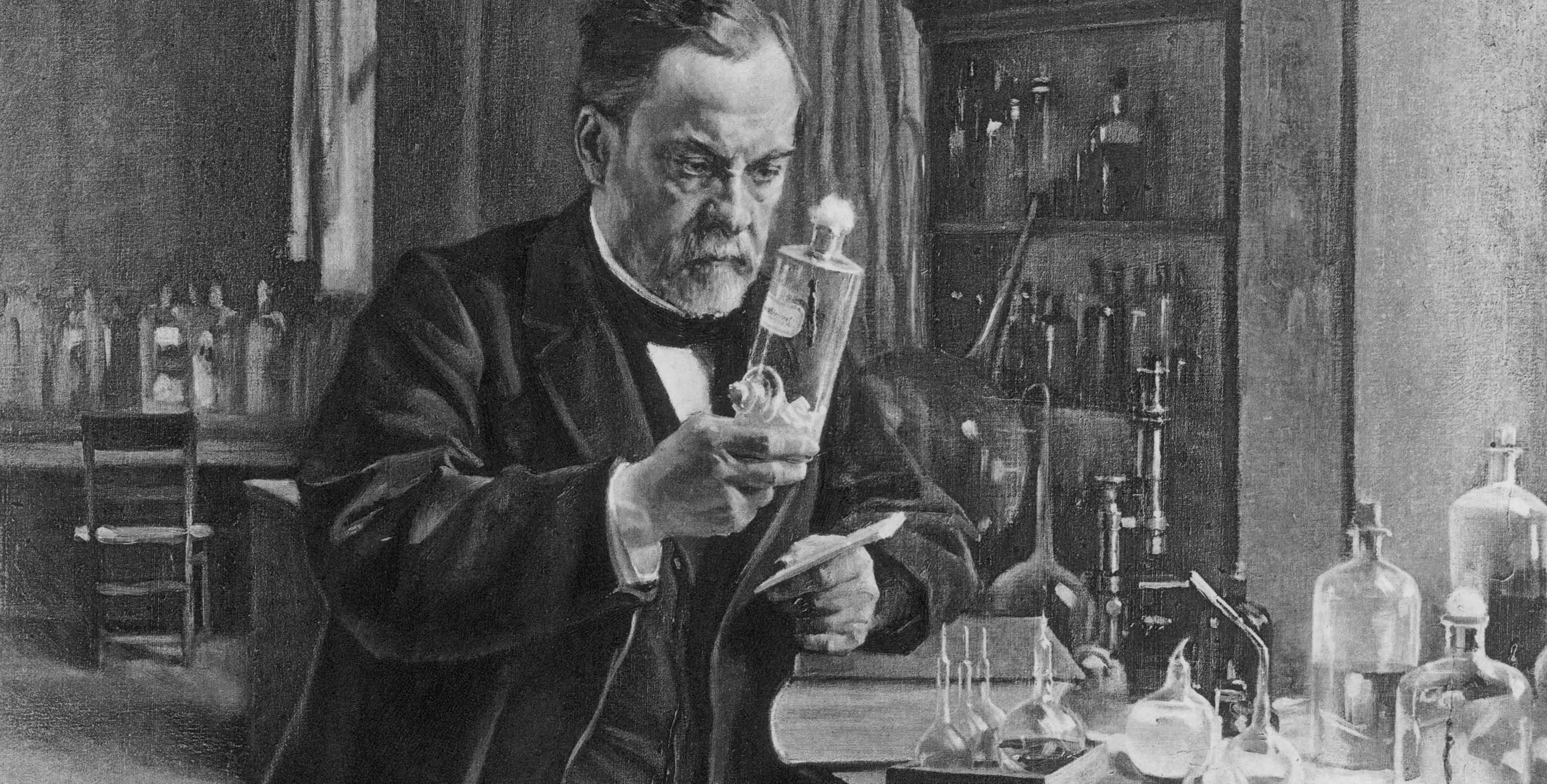 Chapter 1
Louis Pasteur's Origin Story
From birth to earning his doctorate, Louis Pasteur had an inquisitive mind.
December 27, 1822
Birth of Pasteur
1831
Pasteur Observes Rabies
1840
Pasteur Completes Bachelor of Arts Degree
August 13, 1842
Pasteur Completes Bachelor of Science Degree
1844
Pasteur Continues His Schooling
August 28, 1847
Doctorate Won
Pasteur won his doctorate of philosophy degree.
He wrote and defended two essays, one in physics and one in chemistry.
Chapter 2
Pasteur's First Discoveries, Setbacks, and Tragedies
Dr. Pasteur endures some hardships while making significant contributions to the understanding of infectious diseases.
1854
Studies of Fermentation
1857
The Biology of Fermentation
September 10, 1859
Pasteur's Daughter Dies
December 1, 1862
The Death of Spontaneous Generation
In 1860, the French Academy of Sciences had issued a challenge to French scientists: they should try to shed light on the concept of spontaneous generation. Spontaneous generation is the idea, which still persisted in the 1860s, that life can arise from nonliving materials, such as mud or water.
Louis Pasteur took on the challenge, using a precise series of experiments to show that flasks of broth and water did not spoil when he prevented organisms from entering the flasks. The Academy awarded him the prize on December 1, 1862, though other scientists continued to object to Pasteur's findings and methods.
The Academy elected Pasteur to its membership on December 8.
May 23, 1866
Another Tragedy
October 19, 1868
Pasteur Has a Stroke
April 30, 1877
Anthrax Investigations
1879
First Laboratory Vaccine
Louis Pasteur produced the first laboratory-developed vaccine: the vaccine for chicken cholera (Pasteurella multocida).
Pasteur attenuated, or weakened, the bacteria for use in the vaccine. He happened upon the method of attenuation by accident: in his lab, he was studying fowl cholera by injecting chickens with the live bacteria and recording the fatal progression of the illness. He had instructed an assistant to inject the chickens with a fresh culture of the bacteria before a holiday. The assistant, however, forgot. When the assistant returned a month later, he carried out Pasteur's wishes. The chickens, while showing mild signs of the disease, survived. When they were healthy again, Pasteur injected them with fresh bacteria. The chickens did not become ill. Pasteur eventually reasoned the factor that made the bacteria less deadly was exposure to oxygen.
Chapter 3
Pasteur Beats Rabies
An attenuated virus vaccine against rabies becomes Dr. Pasteur's world-renowned accomplishment.
June 5, 1881
Landmark Anthrax Vaccine Study
1884
Attenuating the Rabies Virus
May 19, 1884
Rabies Success with Dogs Announced
July 6, 1885
Rabies Vaccine Used in Human
March 1, 1886
Pasteur Presents Rabies Results
Pasteur presented a paper describing results of using his new rabies vaccine in 350 people. He recorded one fatality, and reasoned that this was the result of vaccination begun too late to prevent the disease.
November 14, 1888
Institut Pasteur Inaugurated
October 9, 1893
New York Inauguration
September 28, 1895
Death of Pasteur
Louis Pasteur died in Marnes-la-Coquette, outside Paris, France, at age 72.